Six Marketing and Advertising Tips for Interior Remodelers
Remodeling companies face challenges like stiff competition, struggling with consistent sales, and little time or knowledge to do their own marketing.
Your interior remodeling company needs to reach local audiences who need services. Marketing gives you a competitive edge and increases brand awareness and recognition. Read on to understand how marketing for remodeling companies helps improve lead generation and sales.
Our Top 6 Tips for Remodeling Companies
1. Create a Website
As an interior remodeler, a website is your biggest asset because it offers a platform to show off your work and allows people to contact you easily. Your company's website must be appropriately designed and mobile-friendly to attract prospective customers' interest.
For your website to be successful, you must incorporate search engine optimization (SEO). SEO entails adjusting a website's content, configuration, and structure to improve its ranking on search engines. Using SEO on your website boosts your company's credibility since only websites with high-quality content rank high on search engines.
Your company should aim to rank its website on page one of a search engine's search results since the page accounts for roughly 90% of web traffic. SEO enhances user engagement, resulting in more lead conversions and higher ROI.
2. Create and Offer Valuable Premium Content
Content marketing for interior remodelers entails publishing written material intended to generate leads for your company. Content conveys competence and brings value to prospects and customers when done right. Popular forms of content include videos, blog posts, infographics, pages, and e-books.
Add some premium content to generate more leads. Examples of premium content include checklists, e-books, and interactive quizzes. Publishing premium content allows you to trade it for email addresses. Keeping this content "gated" will enable prospects to retrieve it and have it sent to their email, letting you build your email list to continue to nurture these leads. Offering premium content to existing customers increases trust in your brand and boosts customer loyalty.
3. Have a Social Media Presence
Social media marketing for remodeling companies entails leveraging popular sites like Facebook and Instagram to achieve advertising objectives. Almost everyone is on social media, including your target audience. Online social networking platforms let you showcase your interior remodeling projects to your target audience.
Examples of content you can post on social media may include videos, photos, and text. Videos and live streaming are great for engagement. Posting before and after pictures on Instagram lets you showcase your interior remodeling expertise.
You can use Facebook to accumulate customer reviews, and TikTok allows businesses to post fun and interactive tutorials or FAQ videos.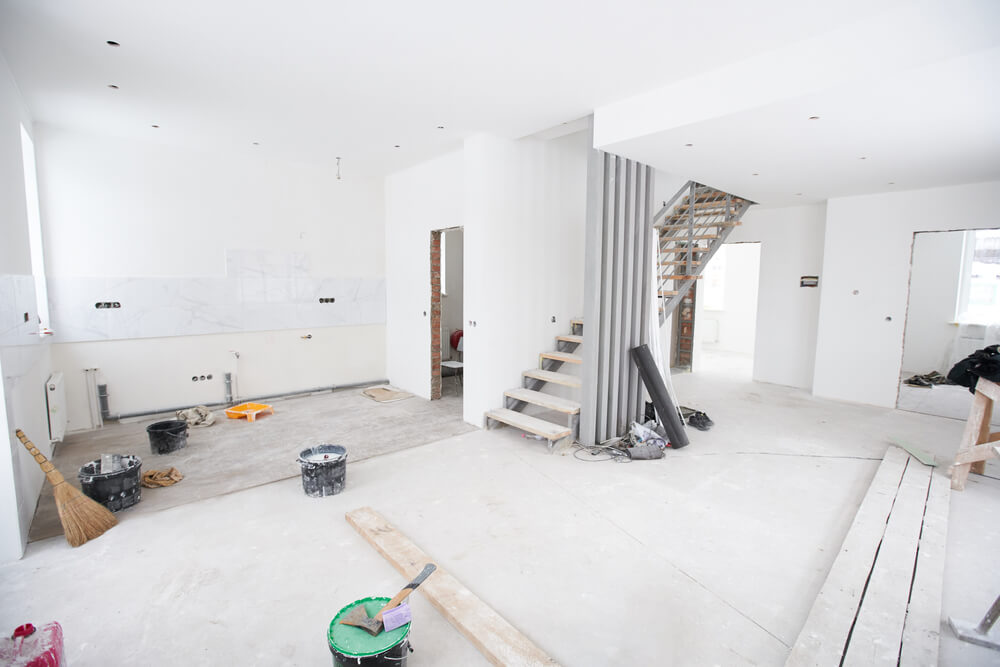 4. Try Event Marketing
Events like trade shows and conferences enable your company to interact directly with prospective and existing clients. Event marketing is valuable because it lets your remodeling enterprise increase credibility, build customer loyalty and trust, and generate leads.
Live events are a great way to introduce your brand to a local audience. You can sponsor an event or get a live mention. If you attend a live event, you can interact with industry players and share business cards.
5. Stay Top of Mind with Radio Ads
Interior remodeling advertising using radio lets you reach a broad audience in your local area. Radio ads are effective because listeners can tune in on the go while you increase brand awareness.
Radio advertising is ideal because audiences resonate with popular local hosts. On-air influencers also help target audiences trust your brand, resulting in greater customer loyalty. You can generate more leads with radio ads by offering special promotions, presenting simple messages, and selecting the right time for advertising.
6. Use Pay-Per-Click Ads
Building an online presence using SEO takes time. If you want immediate results, try PPC interior remodeling advertising. Using PPC ads enables your website to get on the first page of search engines, such as Google and Bing, in the top results.
Companies bid on a target keyword on an ad network, and when a user searches that keyword, the website will show up first on search engines. When someone clicks the link, the company pays a fee.
Step Up Your Marketing and Advertising Strategies Today
Mid-West Family is the best choice if you want these services and more marketing solutions. At Mid-West Family, we recommend and implement tried-and-tested marketing and advertising strategies for your interior remodeling business. You can expect to generate more leads, increase brand awareness and boost sales.